Know how to Register for the MSMEs Survival Fund, right on the FG MSME CRM & MIS platform
Register for the MSMEs Survival Fund. The objective of the FG MSME CRM & MIS Platform is to help with the digital registration, onboarding and monitoring of Micro, Small and Medium Enterprises for the Federal Government Survival Fund Program.
The program includes Payroll Support, Guaranteed Offtake and MSME Grant. The CRM & MIS Platform will also enable the inventory management of the Guaranteed Offtake Scheme.
This program is part of the Economic Sustainability Plan, which aims to support and protect these businesses from the potential vulnerabilities brought about by the COVID-19 pandemic.
Categories for the programme
MSME Payroll Support: For business owners who are not able to pay their staff salaries for the past three months. Their salary is supposed dey between 30,000 and 50,000 Nigerian Naira.
MSME Grant: To to support manufacturing sector with cash so that they can increase their their production capacity.
Guaranteed Offtake: For medium, micro and small business enterprises. This is meant to support their business.
Steps and Requirements
There are four steps an applicants must fill to complete registration.
Step 1: Personal Registration
Applicants personal details, first and last name, email, phone number, password, gender, date of birth, residential address, state of origin and local government is required here.
Step 2: Activate your account
Upon completion of registration, you will receive one activation code in the phone number and email address you provided during registration. Use the code to activate your account. Make sure your phone number or email address is close you during registration so that you can retrieve the activation code.
Step 3: Organisation registration
After a successful activation of account, login and register your organization. To complete this stage, applicants will need their CAC Number, SMEDAN Number, Tax ID (Not compulsory) and the organisation bank account details.
Step 4: Completing the payroll support application
Under MSME Payroll Support, applicant will receive an email on list of things he or she need to complete the application. The list includes:
Company Registration details (e.g. RC No., TIN)
Annual Revenue/Turnover for the past 12months
Employee Account Numbers and BVNs
Proof of last three (3) salaries paid to your employees
Other supporting documents.
The Federal Government has release Payroll Support Timetable for the different categories of the scheme.
On Monday 21 September 2020, only business owners from Education sector
On Friday, 25 September, 2020, business owners from hospitality sector like hotels, bars, cinemas, restaurants and others can register on the website from 12am.
For Monday 28 September 2020, every other business owners can apply.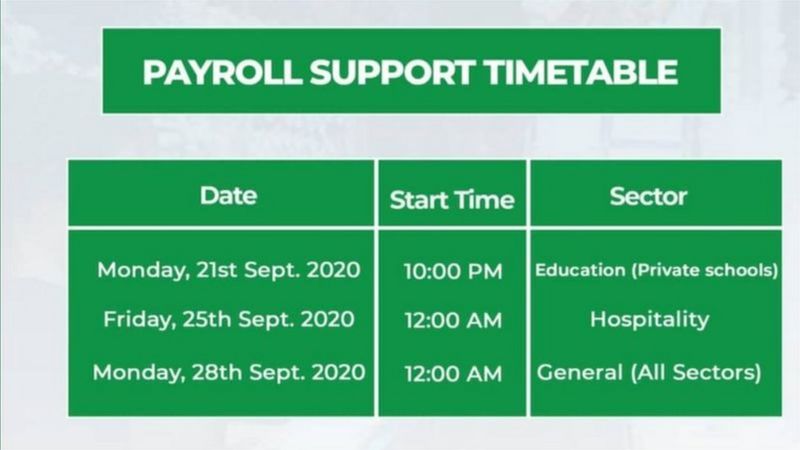 When is the registration closing?
Registration for every sector shall continue until Thursday 15 October 2020.
All applicants are applied to take their time and put all the application materials in order.
How to Apply
Registration for for the survival fund started on 21st September 2020 and is in progress.
To register, visit website of dis project – www.survivalfund.ng
Other information can be obtained from the website or drop your comment here.
READ ALSO: Federal Teachers' Scheme Registration 2020 is on(Opens in a new browser tab)